February 2023
Audience Recommendation for English & French sites
Our new Audience Recommendation feature suggests visitor segments based on Content Interest, our AI-powered algorithm that detects trending topics on your site.
From the AB Tasty Audience Page, see at a glance current hot content and easily create audiences with high conversion potential. Views and transactions are automatically taken into consideration by our AI to display the best audiences. Match these with your business priorities, such as products that might need an extra sales boost. Be sure to activate the product hits integration to enjoy the full benefits of Audience Recommendation!
Currently available for websites in English and French for accounts in the Accelerate and Scale Plans. Not in one of those plans? Contact your KAM to access Audience Recommendation today!
Want to know more?
👉 Check out the Audience Recommendation documentation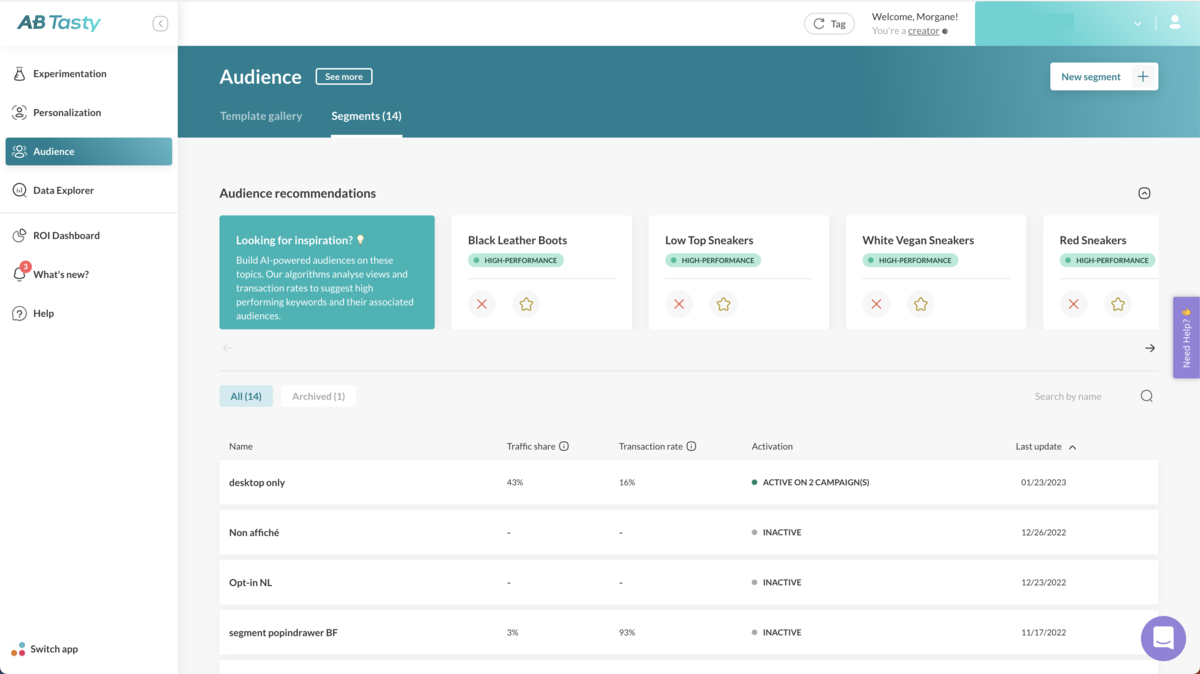 Integrations Hub
Explore our native integrations to see if you're missing out on deeper analytics or more granular targeting
Want to see if AB Tasty is integrated natively with one of your many solutions or one of your future investments? Now you can easily search on abtasty.com/integrations-hub all the integrations available along with how you can leverage the integration to get the best return on your campaigns - whether that's for deeper analytics, granular segmentation, or more. Keep an eye out in the coming weeks for an in-app version of the Integrations Hub!
Cookie lifespan selector
Get more granular with your cookies' lifespan and ensure your settings are at just the right level as your privacy policy. You can now decide how long cookies will live on your visitors' browsers, whether from 1 month to 25 months. You can define cookie lifetime for every AB Tasty account, enabling a cookie policy that matches local legislation and your needs. (By default, AB Tasty cookies expire after 13 months.)
Performance guideline update
Looking to improve your site performance? See your account's current tag weight in the performance center and quickly check to see if this can be improved. AB Tasty files, main tag and deferred campaigns are displayed straight away for your ease. And as usual, you can continue digging into performance improvements directly at the campaign level.

Tag size optimization
Less is more! To maintain high tag performance, the size of AB Tasty tag has been improved to reduce code to a new minimum, improving speed by up to 25%.
Display frequency
How often do you display your campaigns? Have a message you want to reinforce with your visitors? Want to showcase an exclusive deal? Now you have the option in 'campaign targeting' to display the frequency at which your campaigns are shown to visitors.
Air360 integration
Is Air360 your analytics solution of choice to spot website friction and create a smooth user experience? Good news! Air360 have built an integration that sends AB Tasty campaign data to their platform for even more powerful analytics.
January 2023
Multi-app login with SSO
Navigate seamlessly between AB Tasty, Flagship and Epoq
Now you can navigate seamlessly from AB Tasty to Epoq, our new AI-powered search and recommendations products. One set of credentials lets you log in to AB Tasty, Flagship, and Epoq. Want to see what these solutions offer to boost 1:1 personalization and experimentation? Log in to your AB Tasty account to access a 14-day free preview of Epoq, or a 30-free trial on Flagship, our feature management platform!
Want to know more?
👉 Check out the platform overview documentation
Campaign multi-duplication
Instantly scale your good ideas
High 5! You are just a few clicks away from scaling your good idea.
Now you can duplicate your campaign in up to 5 accounts at the same time!
All campaign parameters will be automatically imported for your ease to let you:
Optimize revenue uplift by easily replicating impactful experiences elsewhere

Save time! No need to start from scratch, just adapt an existing campaign where needed (targeting, Visual Editor, traffic allocation,...)
Want to know more?
👉 Check out the campaign duplication documentation
Scheduler email notifications
Get email alerts for campaign play/pause
Put your mind at ease with the ability to enable or disable automatic email notifications when a campaign is played or paused via the campaign scheduler.
Early Adopter: Piano Analytics, FullStory and Tealium
Elevate your campaigns to new heights with our powerful integrations
We have evolved the integration of Tealium and FullStory. Previously, you could only send your campaign data from AB Tasty to Tealium and FullStory (push integration). Now, you can leverage data from Tealium or FullStory in AB Tasty for targeting (pull integration). Using Piano Analytics? Reach out and join our Early Adopter program for this native integration. Contact your CSM to learn more about our Early Adopter programs.
Heap integration
Take the guesswork out of customer journey optimization
Take your website performance to new heights with the evolution of the Heap integration! You could already push the results of your AB experimentation and personalization campaigns into Heap to improve your understanding of customer behavior and optimize the user journey. With this new two-way integration, you can now pull Heap audiences into AB Tasty to target your experimentation and personalization campaign. You will be able to set up data-driven optimization campaigns enriched with product analytics to create the best customer experience on your website.
Want to know more?